b.a. Sweetie Candy Company History
1950-1982
Bag A Sweet Candy Company was formed as a partnership between brother in laws Frank Stansny and Al Tokar. The two Broadview Heights residents started bagging bulk candy in the basement of Al's home on Wallings Road before moving into a building at 4011 Brookpark Road. They sold the bags of candies to grocery, drug, and convenient stores through a network of 6 independent distributors. The 1200 square foot two-story building was the home for the company until 1982 when the company was sold to Tom and Judi Scheiman. The major customers in this period were Fisher/Fazio/Costa, Leader Drug, Friendly Drug, Silverman's and over 125 Convenient Food Mart Stores. 
1983-1997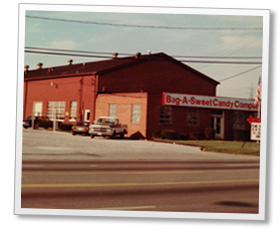 The new owners moved the company 4 miles west to 10904 Brookpark Road into a 4,000 square foot building and started selling candy to the public. The retail store name, Joey's Candies, was named after Tom & Judi's son, Joe. Over a 5-year period, the company opened 10 additional Joey's Candies retail stores throughout Northeast Ohio. The business climate changed in the early 90's and the company changed its focus. In 1993, they closed or sold all of the 10 Joey's Candies stores and incorporated a new corporate identity. The new name, b.a. Sweetie Candy Company, d.b.a. Sweetie's Candy was born. The company's top wholesale customers include Stop&Shop, Marc's, Top's Supermarkets and Medic Discount Drug.

1997-2014
The company moved east on Brookpark Road about mile to its new home at 7480 Brookpark Road. The 6,000 square foot building was retrofitted to incorporate the new "Big Box" design of selling candy to the public. As the business grew, so did the need for more space. Over the next 12 years, the company continued to buy out neighboring store leases and expand the store 3 times to 21,000 square feet. The company expanded into the web business in 1999. Sweetie's Candy of Arizona was opened in July 2010. The top wholesale customers included Tops Supermarkets.
2015-2018
In January 2015, the company opened a new 40,000 square foot candy store on its new 5 acre headquarter campus. The campus includes the largest candy store in North America, the 150 seat Sweetie's Soda Shoppe parlor, and the 36 hole Sweetie's Golfland Park. The top wholesale customers include Heinens Fine Foods, Daves Supermakets, Acme Fresh Market, It'Sugar Candy Stores, Pat Catan Craft Stores, and hundreds of independently owned retailers. In 2017, Sweetie's opened a small branch location in Cleveland's West Side Market. Sweetie's Big Fun in Orange Village and Sweetie's Golfland North Ridgeville both opened in June 2018. Sweeties Candy of Arizona moved to a larger 13,000 square foot location.

2019-Current
In February 2019, Sweeties opened a new popcorn kitchen in the main building and started manufacturing a variety of flavored popcorn to local grocery stores. This new business led to explosive growth capitalizing on selling more product to its existing wholesale customer base. In 2020, the company purchased an additional 1 acre parcel on the campus that housed a Denny's Restaurant that closed due to COVID. Also in late 2020, the company purchased Campbell's Sweets Factory, a popcorn and sweets manufacturer and its multiple locations. COVID killed the Sweeties Big Fun Store and the Sweeties West Side Marker location and both were permanently closed. In 2021, the company purchased the assets of Humphrey Popcorn Company, a 125-year-old Cleveland based popcorn manufacturer. 2022 included opening the new 11,000 square foot Sweeties Popcorn Kitchen and distribution facility. In late 2022, the company purchased Olympia Treats in Strongsville, a popcorn and chocolate manufacturer. Today, the company manages over 80,000 square feet of retail, manufacturering, and distribution to supply over 1,000 location with candy and popcorn.